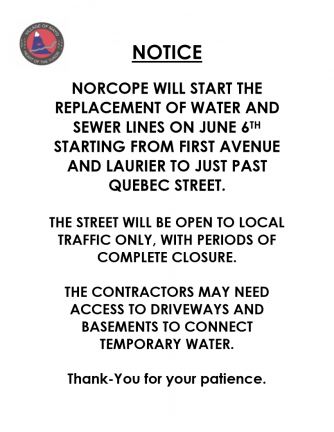 CONSTRUCTION NOTICE LETTER
TO:  Village of Mayo residents
RE:  Stewart River Lift Station Upgrades
Date:  May 17th, 2018
Dear Residents,
The Yukon Government – Infrastructure Development Branch has contracted with Northern Industrial Construction Services Ltd. (NIC) to perform some upgrades at the lift station located on the Stewart River bank along First Avenue.
This project is important for the Village as this will provide additional life to this critical infrastructure which collects sewage from the sewer system and sends it to the sewage lagoons.
The first phase of work will include the installation of a bypass to the lift station on First Avenue with temporary pumps. This will require a single lane of traffic on First Avenue, directly in front of the lift station, for the duration of construction. Once the lift station is isolated, civil and building upgrades will follow. After the upgrades are completed, the temporary bypass and pumps will be removed, and normal traffic will resume.
NIC will start work at 7:00 AM, 7 days a week, and will finish around 5:00 PM. Construction is scheduled to start on May 23rd and will run until the end of September.
We understand that this may be a short-term inconvenience and we hope to work together with you in a professional and amicable manner for the long-term improvement of the lift station.
If you have any questions regarding this project, feel free to contact Virginia Sarrazin, Project Manager at WSP/Opus International Consultants (Canada) Ltd. at 867-668-2525.
Sincerely,
Rodney Johnson
Project Foreman
Northern Industrial Construction Services
Please keep your bleeders on.